Eastern Wisconsin Ag Construction
Dairy Barns, Metal Buildings, Feed Slabs & Concrete Construction
KSI Construction - Nearly 30 Years of Ag Construction Experience
KSI Construction started building metal frame dairy buildings in 1990. Since then, we have focused on becoming Eastern Wisconsin's Ag Construction experts, expanding our services to include concrete feed slabs, bunker silos, manure pit construction, and specialty concrete work. Our crews are well-trained and supervised to complete your project start to finish without the need to subcontract. We handle site preparation, grading, pouring concrete and building construction.
Building Solutions For Your Farm's Needs
Our industry knowledge and experience shapes the design of our metal buildings and concrete bunkers and slabs. We design our metal buildings with several things in mind: maximum usable square footage, unobstructed airflow and ventilation, cleanliness, wet environments, and protection from snow loads and wind.
We build concrete structures that withstand the harsh Wisconsin climate and commercial dairy use. We pour concrete that is much stronger than industry standard, with thorough site prep and mechanical compaction to prevent cracking.
With nearly 30 years of experience working directly with Wisconsin farmers, we're proud to design and build quality concrete and steel structures that serve our customers well.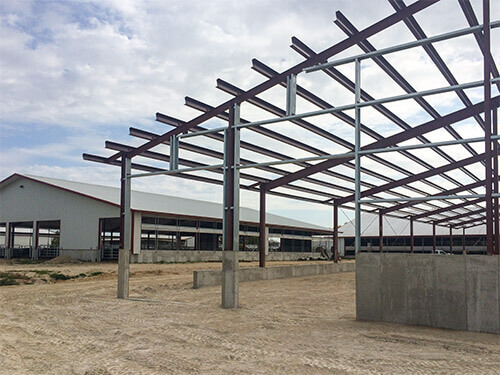 KSI Construction Company History
KSI Construction was founded in 1990 by the father-son team of Richard and Scott Teunissen and is currently owned and operated by Scott. They founded the company with the needs of local farmers in mind. Richard was knowledgeable and, with the help of Scott, developed innovative designs that provided solutions to a number of forage storage issues faced by farmers. They began with a focus on dairy barns and other metal building construction and then expanded into concrete feed slabs and bunker silos. Today, KSI is a skilled, agricultural construction company, focused on providing complete building solutions to Wisconsin's farmers. We specialize in all types of farm buildings, concrete feed storage solutions, manure pit excavation, and specialty farm building construction.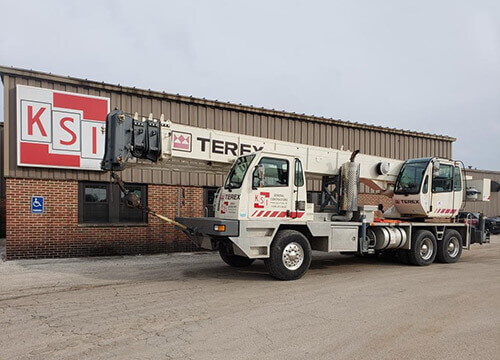 KSI Construction & KSI Supply - Complete Feed Storage Solutions
Scott and Richard Teunissen founded KSI Supply in 1999, expanding KSI's agricultural services. KSI Supply is focused on agricultural plastics and feed storage solutions and is the second largest distributor in the world for RKW HYPLAST agricultural plastic. KSI Supply and their authorized dealers deliver feed storage solutions throughout the U.S. and Canada. KSI Construction and KSI Supply serves farmers with complete feed storage solutions.
KSI Supply is proud to offer an extensive selection of silage plastics, grain and silage bags, bale wraps, baler twines, and other feed storage solutions.
KSI Construction Service Area
Located in Plymouth, Wisconsin, our construction service area includes the following counties: